Discover more from Cardijn Research
My research notes about the life and work of Joseph Cardijn and his network
The Cardijn influence in the US civil rights movement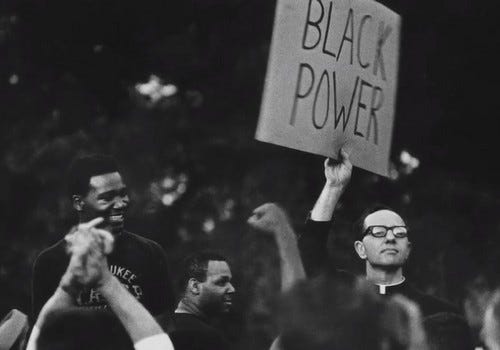 Fr James Groppi with black activists during a demonstration around 1968.
As Black Lives Matters protests sweep the USA and even extend into other parts of the world, it's perhaps a good time to reflect on the often-overlooked and very under-documented Cardijn influence in the US civil rights movement of the 1960s.

The whole subject would be a project well worthy of one or more master's or doctoral dissertations. Nevertheless, let's at least start with a few simple notes that hopefully may also spark broader interest in this issue.

1957 National Enquiry on 'Unity'

In her book A Time of Awakening, The Young Christian Worker Story in the United States 1938 to 1969, Mary Irene Zotti hghlights a 1957 YCW national enquiry on the theme "Unity" that helped launched grassroots awareness and action around the nation.

The enquiry "looked at problems in daily life which separated people: racial discrimination, communism, and mixed marriage, lack of understanding of people in and from other countries around the world," Zotti writes.

"Leaders examined life in the parish and the neighborhood, unions at work and even the United Nations. Actions on international concerns included talking to friends on the need for understanding the situation in other countries, helping immigrants to adjust to American life, and sending CARE packages to the poor overseas.

"Major action followed the examination of the facts of racial discrimination," Zotti notes.

The YCW in Omaha, Nebraska, was particularly active on the issue.

"In Omaha, observation revealed that a Nebraska law prohibiting discrimination in restaurants was often ignored," Zotti continues.

"When YCW members learned that the city council had invited the Urban League and a Baptist convention to meet in Omaha that summer, they decided to take a survey on the extent of discrimination In all restaurants in the city. They distributed the list to all convention goers.

"AIM, the new national YCW newspaper, reported on the results of that action in its issue of July 1958.

"The YCW leaders agreed, 'It was not a survey just to determine statistics about discrimination, but also a means of determining where, how, and when we personally could Christianize and educate our fine All-American City, our friends in it, and especially the restaurant people.'

"The results surprised even themselves…

"They talked to 76 restaurant proprietors about discrimination and put together a fact sheet on Nebraska Civil rights laws…

"The results of the survey caused quite a small stir. Said George Robinson, Omaha Urban League president, 'The group's impact on restaurant owners was most interesting.'

"It seems that more than two-thirds of the restaurants told the YCWs they served Negroes under the same conditions as anyone else, but, when it came to putting their name on a list for convention use, less than half were willing to do so…

"The Holy Cross YCW section in Omaha won a national citation for its constructive action the following year at the National Catholic Interracial Conference, the first award to a lay group in the NCIC's history. Ray Horn, the project leader, started the Catholic Interracial Council of Omaha when he left the movement to get married," Zotti records.

The San Francisco YCW was another that took the issue to heart.

"In San Francisco, YCW members, incensed by the facts they discovered about racial discrimination on the job, waged a major campaign to establish a Fair Employment Practices Commission in their city. Public meetings, petitions, letters to newspapers, state legislators, and local officials brought about the passage of fair employment legislation," Zotti adds.

"A YCW leader was appointed a commissioner on the newly Instituted FEPC. The organization was commended by a public official who gave the YCW credit for mobilizing public opinion to get the legislation passed," she writes.

The YCW and the Civil Rights movement

And the issue was back on the YCW's national agenda in 1961 with the national program devoting five months to the problem, with much more sophisticated guidelines for action. Zotti again documents a series of individual and group actions in various dioceses and cities across the country.

"A major part of the suggested action was a neighborhood survey to be taken by all YCW sections on discrimination in housing, employment, education, and public places including restaurants, theaters, and hospitals.

"In Covington, Kentucky, 1,017 families were surveyed regarding their attitudes on minority groups and the results were presented, on request, to the Governor's Conference on Human Rights. The Covington YCW also played a major role In integrating their local parish churches.

"Civil rights was becoming an issue throughout the country and YCW leaders participated in sit-ins, wade-ins, and Freedom Rides. Some developed interracial discussion groups and social events, aided families in need, painting the house of an elderly black couple in Milwaukee, for example.

"In St. Cloud, Minnesota, YCW helped Indians on the nearby reservations prepare for jobs in the city. Migrant families were helped in Racine, Wisconsin. Other YCW leaders worked in community organizations and encouraged open occupancy laws.

"In New Orleans, a fellow and a girl impersonated a married couple, at considerable danger to themselves, to see what was going on in a segregationist group.

"In Baltimore, YCW leaders were in a group arrested trying to integrate a local amusement park. Members in Oklahoma were also arrested for participating in demonstrations for racial justice. Individual actions were taken by members everywhere," Zotti notes.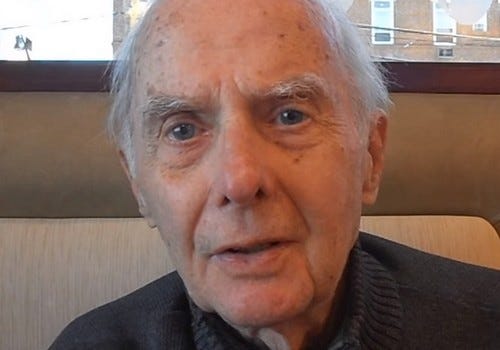 Mike Coleman
Zotti cites then national president, Mike Coleman's summary of "Civil Rights Action" resulting from the 1961 program.

"The program served as an instrument of education for all members in the YCW, helping them to uncover truth regarding the problems of minority groups. They learned to work with other groups like NAACP, Catholic Interracial Council, Urban League, and B'nai B'rith.

"Our members discovered that many people were afraid of the race issue, but slowly through education, they found it easier to converse about It. They began to understand the Negro and his contribution to our society. They realized, also, they had to begin to know Negroes as people and not as problems," Coleman, who was originally from the Minneapolis St Paul diocese and later himself became heavily involved in the civil rights movement, wrote in a contemporary report.

Often the movement itself suffered from its stands on civil rights issues.

"The stand of the Young Christian Workers on the issue of civil rights by the mid-sixties became so well-known that Jim Burke, then a YCW organizer in Chicago, recalls being thrown out of more than one Southwest Side rectory by pastors facing the prospect of rapidly changing neighborhoods," Zotti records.

"The first time he was told, 'I don't want your nigger-loving group In my parish,' he returned to his own chaplain in tears of dismay."

And there were many more examples.

The role of YCW chaplains

In his autobiography, Victor Salandani, a YCW chaplain from San Diego diocese, who became known as the 'Tortilla Priest' for his involvement with Cesar Chavez and Hispanic farm workers in particular, recalled his own experience while studying at St Louis University in 1963.

"My parish work made me very aware of the racial problems that existed all around the area of the university, which was situated in a black ghetto. I observed that the average white Catholic priest in St. Louis was prejudiced against the black population of St. Louis. At the time there were only a handful of black Catholic priests in the city.

"The racial problem really came home to me one afternoon when after class one of my white classmates was murdered a few blocks from the university by a black gang. About that same time, the famous John Howard Griffin, author of Black Like Me spoke at the University. I was fortunate to have had the opportunity to spend a day with him. This was 1963 and Mr. Griffin at that time predicted the riots that occurred 5 years later in many major U.S. cities," Salandini wrote in his autobiography.

And, thanks to Josephine, I've just learned of another YCW chaplain, Fr James Groppi, who came to play a leading role in racial justice issues in the Milwaukee diocese.

Indeed, here below is the trailer for the movie, which will come out later this year.


And here is some archival footage of him with other activists.
And there's still so much more to be told in this story of the Cardijn movements and the US civil rights movement...
Stefan Gigacz
SOURCES AND REFERENCES
Mary Irene Zotti, A Time of Awakening, The Young Christian Worker Story in the United States 1938 to 1969, Loyola University Press, Chicago, 1991.
Patrick D. Jones, The Selma of the North: Civil Rights Insurgency in Milwaukee, Harvard University Press, 2009.
Karen J. Johnson, One in Christ : Chicago Catholics and the Quest for Interracial Justice, Oxford University Press, 2019.
Fr Victor Salandani (Cardijn Priests)
Victor Salandani, The Confessions of the Tortilla Priest (San Diego Review/University of California at San Diego)
The Nationwide Drive Against Law Enforcement Intelligence Operations (United States. Congress. Senate. Committee on the Judiciary. Subcommittee to Investigate the Administration of the Internal Security Act and Other Internal Security Laws)