Discover more from Cardijn Research
My research notes about the life and work of Joseph Cardijn and his network
The 'communal soul' of the Sillon and the JOC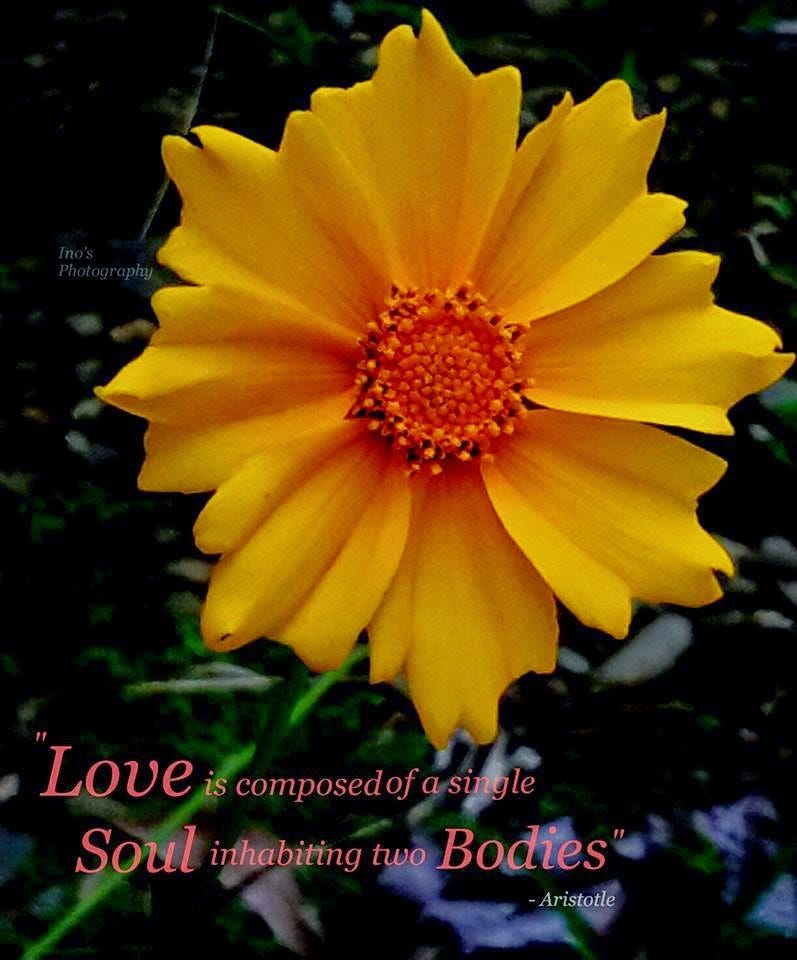 "Nous voulons nous faire une âme commune" - "We want to develop among ourselves a communal soul." This was another of the famous sayings of Marc Sangnier that was later picked up by Cardijn and the JOC. For a long time, I've wondered where it came from. Finally I believe I have the answer, thanks to my friend, Fr Ino Buguaisan, who posted this great photo on his Facebook page over the weekend.

"Love is composed of a single soul inhabiting two bodies," said Aristotle. Love and friendship are based on the development of a communal soul, in other words.

There's no doubt that Marc Sangnier and his fellow founders of the Stanislas College student group knowns as The Crypt which later developed into the Sillon movement, had a deep grasp of classical philosophy, including Aristotle, so I think there's a strong chance that the Stagirite philosopher is indeed the source of the expression.

I checked the reference to Aristotle and it comes from an ancient book by Diogenes Laërtius entitled The lives of eminent philosophers, which includes many otherwise unknown sayings. Here is the relevant passage:

He was once asked what a friend is; and his answer was; "One soul abiding in two bodies".

And in French:

On lui demanda ce que c'était un ami; il dit que c'est une âme qui animait deux corps.

One soul animating two souls, a beautiful concept.

Here's how Marc Sangnier expressed it in relation to the development of the Crypt:

Alors, nous sentîmes un grand besoin de parler entre nous de toutes ces ardeurs qui brûlaient le cœur, de nous connaître, de former et d'entretenir parmi nous une sorte « d'âme commune », de nous détacher des vulgarités d'une vie toute matérielle et sans au-delà, de nous préparer aux grandes luttes futures dans une sorte de veillée d'armes fraternelle et de trouver quelque but sublime auquel offrir nos arides travaux quotidiens, transfigurés tout à coup et acceptés avec amour. On nous permit de nous réunir chaque semaine dans une salle souterraine, que l'on appelait la « Crypte », et là, nous parlions de tout et de rien, avec inexpérience et avec audace peut-être mais avec cette conviction qu'il fallait faire quelque chose et que si nous ne demandions ni succès ni gloire, mais seulement la consolation d'être de bons et dociles ouvriers de Jésus-Christ, Il exaucerait notre prière. Les conférences de la Crypte étaient ainsi fondées.

Translation:


We felt a great need to talk among ourselves of all the ardours that were burning in our hearts, to get to know each other, to form and develop among ourselves a sort of "communal soul", to detach ourselves from the vulgarities of a completely material life and without more, to prepare ourselves for the great struggles of the future with a kind of fraternal vigil and to find some sublime goal to which we could offer our arid daily toil, suddenly transfigured and accepted with love. They allowed us to meet each week in an underground room that we called "the Crypt", and there, we talked about everything or nothing at all, perhaps with inexperience and audacity but with the conviction that it was necessary to do something and that while we sought neither success nor glory, but simply the consolation of being good and docile workers of Jesus-Christ, He would answer our prayer. Thus were the conferences of the Crypt founded.
Cardijn and the JOC would later pick up on this ideal of a "communal soul", including at the founding National Congress in 1925.
Here is a passage from the report of the founding Secretary-General, Jacques Meert:

La somme de travail, d'efforts, de dévouement, dont ce rapport ne donne qu'une idée fort incomplète, c'est l'œuvre fraternelle de 6.000 jeunes travailleurs éparpillés à travers toute la Wallonie, et si près l'un de l'autre pourtant qu'il a suffi de quelques mois pour leur faire réellement une âme commune.

Translation:
The sum of work, effort, devotion, of which this report only provides a very incomplete idea, is the fraternal work of 6,000 young workers spread across the whole of Wallonia, and so near to one another that several months was enough to really develop a communal soul.
SOURCE: Manuel de la JOC, 1925
The same idea is developed further (probably by Cardijn himself) in the second edition of the Manuel de la JOC published in 1930, significantly in Chapter 5 on The Jocist method:

Méthode humaine


6.— La méthode jociste est une âme, qui ne peut vivre sans le corps qu'elle anime et qui la soutient. Toutes les applications de la méthode jociste, qu'on va détailler et analyser succintement, depuis les cercles d'études jusqu'aux services ; depuis le bulletin d'inscription jusqu'aux cotisations et à l'administration ; depuis le comité local jusqu'au secrétariat national ; toutes ces applications se compénètrent, se conditionnent et s'influencent pour former ensemble un grand corps vivant, un mouvement social puissant qui doit former, protéger et représenter toute la jeunesse salariée. Les Jocistes n'ont pas entr'eux des contacts passagers, locaux ou régionaux ; la J. O. C. n'est pas seulement un mouvement d'idées ; elle est encore moins une mise en commun d'intérêts ou d'appétits, elle est une grande fraternité qui fait de tous les jocistes des « Croisés », qui puisent dans une Foi commune et un Amour commun, un trésor inépuisable de générosité, d'héroïsme et d'apostolat qui doit transformer tout leur milieu de travail, entraîner tous leurs compagnons aux pieds du même Christ au sein de la même Eglise.


Translation:
Human method
6. - The jocist method is a soul, which cannot live without the body that it animates and which supports it. All the applications of the jocist method, that we will detail and analyse briefly, from the study circles to services; from the registration form to subscriptions and administration; from the local committee to the national secretariat; all these applications compenetrate condition and influence each other to form together a great living body, a powerful social movement that must form, protect and represent the whole of wage-earning youth. Jocists do not have passing contacts, whether local or regional, among each other; the JOC is not just a movement of ideas; still less is a sharing of common interests or desires, it is a great fraternity that must make "crusaders" of all jocists, who seek in a common Faith and a common Love, an inexhaustible treasure of generosity, heroism and apostolate that needs to transform their whole working environment, and bring all their companions to the feet of the same Christ within the same Church.
Thus,
Cette large perspective de la collaboration et de la coordination de tous les efforts pour le progrès et l'aboutissement du programme jociste doit être continuellement rappelée aux membres des Cercles d'études. Elle doit les stimuler à la discipline enthousiaste et produire une véritable émulation entre toutes les sections. Elle empêche les vues étroites et étriquées, prévient les déviations, prémunit contre le dilletantisme, et crée véritablement une âme commune et un esprit commun.


Translation:
This broad perspective of collaboration and coordination of all the efforts for the progress and success of the jocist program must be continually recalled to all members of study circles. It must stimulate in them an enthusiastic discipline and produce a genuine emulation among all sections. It prevents narrow and stunted views, prevents deviations, guards against dilettantism and genuinely builds a communal soul and a communal spirit.
Cardijn also extended the concept to Catholic Action in general in a 1938 article, Le contenu de l'action catholique in the Dominican journal, La vie intellectuelle:


L'Action catholique crée une âme commune, entr'aide tous ceux qui se donnent à l'apostolat dans la vie temporelle. L'Action catholique forme une élite humaine dont la zone d'influence est la vie laïque.

Translation:
Catholic Action creates a communal soul, a mutual aid for all those who devote themselves to the apostolate in temporal life. Catholic Action forms a human elite whose zone of influence is lay life.
However, by understanding the Aristotelian origin of the expression, we can better appreciate its meaning. In other words, the key to developing that communal soul of an organisation means building a movement or initiative on the basis of love and friendship. It's the same point made in another way with the Sillon slogan "Le Sillon est une amitié" - "The Sillon is a friendship", also borrowed by the JOC, which I referred to in my previous post.
For Marc Sangnier's and for Cardijn's generations, such references to Aristotle and classical philosophy were almost self-evident. Today, however, so much of that has been lost.

PHOTO: Fr Ino Buguauisan:

https://www.facebook.com/pages/Pay-Ino-Bugauisan-SOLT-Mobile-Phone-Photographer/502653966542419