Discover more from Cardijn Research
My research notes about the life and work of Joseph Cardijn and his network
The first YCW martyr?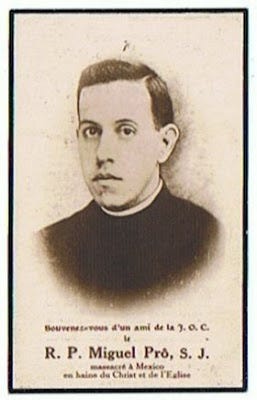 This is the story of the young Mexican Jesuit Fr Miguel Pro, who along with his brothers, was executed on trumped up charges of attempting to assassinate the anti-clerical President Plutarco Elias Calles.

Son of a mining engineer, Miguel Pro was studying with the Jesuits in Belgium where he became involved in worker issues, including visiting coal mines in the Charleroi region to get to know the workers and the situation there.

As a result of this commitment, he was invited to attend the First National Congress of the Belgian JOC in April 1925.

According to the report below published in La Jeunesse Ouvrière in January 1928, he commented at the Congress that "The JOC will be very good for Mexico too." As was the custom at the time, JOC president Fernand Tonnet raised a toast to their "international" visitor.

By the time he returned to Mexico to take up his ministry, persecution against the Catholic Church was already under way, which in turn led to a rebellion by a group known as the Cristeros.

He was executed on 27 November 1927 without trial with President Calles ordering that the execution be fully documented and recorded, hence the pictures below.

Wikipedia records the details of the execution as follows:

Fr. Pro and his brothers were visited by Generals Roberto Cruz and Palomera Lopez around 11 p.m. on November 22, 1927. The next day, as Fr. Pro walked from his cell to the courtyard and the firing squad, he blessed the soldiers, knelt and briefly prayed quietly. Declining a blindfold, he faced his executioners with a crucifix in one hand and a rosary in the other and held his arms out in imitation of the crucified Christ and shouted out, "May God have mercy on you! May God bless you! Lord, Thou knowest that I am innocent! With all my heart I forgive my enemies!" [5] Before the firing squad were ordered to shoot, Pro raised his arms in imitation of Christ and shouted the defiant cry of the Cristeros, "Viva Cristo Rey!" -"Long live Christ the King!".[5] When the initial shots of the firing squad failed to kill him, a soldier shot him point blank.
A tragic story but also one which gave the emerging YCW its first martyr. Pope John Paul II officially beatified Miguel Pro on 25 September 1988.