Discover more from Cardijn Research
My research notes about the life and work of Joseph Cardijn and his network
The grateful "Minis"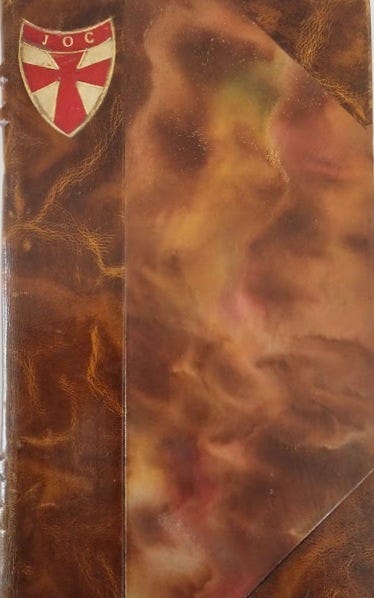 A nice piece of French JOCF history!
A beautiful leather-bound copy of the classic 1930 2nd edition of the "Manuel de la JOCF" (Girls YCW Manual) with the JOC badge embossed on the cover in colour.
With a hand-lettered dedication:
A notre chère bienfaitrice.

Les Jocistes de St. Pierre.

Les Minimes reconnaissantes.

Noël 1936.
In English:
To our dear benefactor.

The jocists of S. Pierre's.

The grateful Minis. 
Christmas 1936.
The vendor of the book is from Orleans. So St Pierre's is probably the church of Saint Pierre du Martroi, now part of the Orleans Cathedral parish.
A small thing but very evocative of what the YCW meant to those teenage leaders!
Stefan Gigacz
REFERENCE
Eglise Saint Pierre du Martroi (Wikipedia.fr)