Discover more from Cardijn Research
My research notes about the life and work of Joseph Cardijn and his network
The Holy Cross Fathers: From Lamennais to Vatican II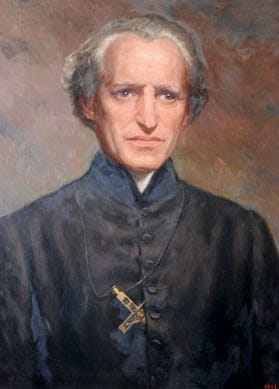 Basile Moreau CSC, founder
Among the Vatican II bishops who were close to Cardijn was the Panamian Archbishop Marcos McGrath.

According to Wikipedia, which unfortunately does not give a source, Archbishop McGrath was close to the specialised Catholic Action movements and promoted the see, judge, act (SJA) method:

Ingresó al noviciado de la Congregación de Santa Cruz en 1942. Completados sus estudios de filosofía y teología, fue ordenado sacerdote el 11 de junio de 1949. Sus superiores lo enviaron a París y Roma para estudios avanzados en teología, recibiendo su doctorado del Angelicum de esta última ciudad, con una disertación calificada de magna cum laude que tuvo por tema "El Concilio Vaticano I y la evolución del dogma". Pudo entrar en contacto con el pensamiento renovador de Yves Congar, Henri de Lubac, Karl Rahner y Romano Guardini, y corrientes filosóficas como el personalismo y el humanismo cristiano, que preparaban el camino al Concilio Vaticano II. Podemos agregar que conoció y apreció los grandes movimientos precursores del Concilio: el movimiento litúrgico, el movimiento bíblico, la Acción Católica especializada con el empleo del famoso método de ver, juzgar y actuar.

Translation:

He entered the novitiate of the Congregation of Holy Cross in 1942. Completed his studies in philosophy and theology, he was ordained a priest on June 11, 1949. His superiors sent him to Paris and Rome for advanced studies in theology and received his doctorate from the Angelicum in the latter city, with a qualified magna cum laude dissertation on the theme "The Vatican I and the evolution of dogma ". He could contact the renovating thought Yves Congar , Henri de Lubac , Karl Rahner and Romano Guardini , and philosophical currents as personalism and Christian humanism, which prepared the way for the Second Vatican Council .We may add that knew and appreciated the great pioneers movements of the Council: the liturgical movement, the biblical movement, Catholic Action specialized employment of famous method of seeing, judging and acting.

In any event, Jorge Fernando Heredia Zubieta confirms McGrath's role in promoting the SJA at the Latin American bishops conference at Medellin in 1968.

It is also highly significant that Archbishop McGrath was president of the Signs of the Times Sub-Commission at Vatican II, which of course used the SJA method as part of the drafting process of Schema XIII, which became Gaudium et Spes.

Interestingly, young McGrath studied at the Universidad Catolica de Chile at Santiago, Chile also being a country with a very significant Cardijn influence, before joining the Congregation of the Holy Cross - the Holy Cross Fathers, who founded the University of Notre Dame in the USA.
In fact, Notre Dame was a hotbed of support for the specialised Catholic Action movements. Indeed, the archives of the US YCW are held there.
Among the Notre Dame CSC priests who were close to the YCW was the late Fr Louis Putz, who founded both the YCS and the Christian Family Movement in the USA:
http://jalbum.net/en/browse/user/album/1449168
There were also many other CSC fathers who were involved in this work as Fr Robert Pelton CSC writes:
I was privileged to arrive at Notre Dame at a time when Father (later Archbishop) John O'Hara, CSC, Father Louis J. Putz, CSC, and a group of other priests and lay leaders at Notre Dame were vigorously questioning the adequacy of such a faith. By founding the Young Christian Students, the Christian Family Movement, Catholic Worker chapters, community outreach programs, and countless other Catholic Action groups, these visionary leaders both challenged and empowered faithful laypersons to infuse Christian values and Christian compassion throughout all areas of daily life. Their efforts were fostered by Father Theodore M. Hesburgh, CSC, who consistently initiated, strengthened, and defended Notre Dame's social mission throughout his 35-year presidency of the University, and by Father Edward A. Malloy, C.S.C., who continues to build upon and extend this vision.

Indeed, Fr Pelton himself had been part of a YCW team at Notre Dame.

Fr Hesburgh, who later became a noted president of Notre Dame, was also a Catholic Action Moderator at the university when it hosted Cardijn at at a conference in August 1947.

Another Canadian CSC father who played a very significant role was Fr Oscar Melanson, who became a famous JOC chaplain in Brazil.

I should also mention that, following his studies, Fr McGrath returned to Chile in 1953 to teach at the CSC St George College in Santiago, where he also became a Catholic Action, i.e. probably JEC (YCS) chaplain. From 1954 he also taught theology. In 1960, he launched a journal with the significant title of Teologia y vida (Theology and life).

Source: http://www.scielo.cl/scielo.php?pid=S0049-34492000000300002&script=sci_arttext
Interestingly, it appears that the CSC fathers, who were founded in France in 1837, had previously been promoters of the Sillon, as recorded by the French writer, Henry de Montherlant:
"Au cours de cette année 1912, mon directeur de conscience, jésuite d'extrême-droite, détruisait systématiquement en moi l'enseignement des prêtres de Sainte-Croix, qui était démocratie chrétienne et Sillon."

Translation
During the course of 1912, my director of conscience, an extreme right-wing Jesuit, systematically destroyed in me the teaching of the priests of the Holy Cross, who were Christian democratic and Sillon.


(Montherlant, Va jouer avec cette poussière (Carnets 1956-1964), p. 102, Gallimard, 1966,)
Source: http://www.montherlant.be/article-81-demeeus.html
Montherlant himself had been taught by the sillonnist philosopher, Paul Archambault. at the College Notre Dame de Sainte Croix at Neuilly, near Paris, and which had been founded by the Holy Cross congregation. The poet and novelist, Amédée Guiard, was another famous sillonnist who also taught at Neuilly.
And in tracing back this Holy Cross tradition, I guess it's no surprise to find that its founder, Fr Basile Moreau, had himself been a disciple of Lamennais, before the latter split with the Church.
Source: http://www.cscfrance.org/content/basile-moreau
Once again, it's interesting to trace the generations: Lamennais, Le Sillon, the JOC, JEC and other specialised Catholic Action movements, right up to Vatican II and beyond.