Discover more from Cardijn Research
My research notes about the life and work of Joseph Cardijn and his network
The Jesuit connection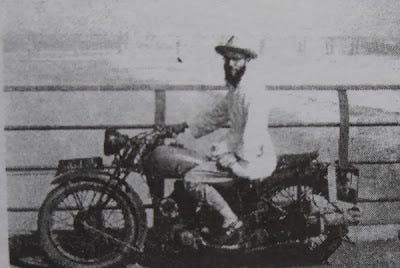 Fr Yves de Steenhault SJ, YCW chaplain, Asansol, India
In studying Cardijn's life and the emergence of the YCW, it is hard to overlook the role played by Jesuits, particularly in the early stages of the movement's development.

Perhaps one of the earliest Jesuits to have an influence on Cardijn was Fr Arthur Vermeesch, who wrote a significant manual of social action, before going to Rome where he taught canon law for many years.
According to Marguerite Fiévez and Jacques Meert, Fr Vermeesch may have also played a role in facilitating Cardijn's famous meeting with Pope Pius XI in 1925.
Also highly significant is the role played by Fr Joseph Arendt, an engineer before entering the Jesuits, who worked as an assistant chaplain to the YCW from the mid-1920s, writing many articles and booklets for the new movement. These included the booklet, La Jeunesse Ouvrière Chrétienne, published in 1925, and which was possibly the first YCW publication to specifically refer to the See Judge Act method.

Another Jesuit who worked closely with the early both in Belgium and France was Fr Jean Boulier, who wrote an early pamphlet, L'Appel de la JOC. He later wrote a memoir including these experiences entitled J'étais un prêtre rouge.

As mentioned on this site recently, the Mexican Jesuit student, Blessed Miguel Pro atttended the first National Congress of the JOC in Belgium in 1925.

Fr Raoul Plus became a popular and prolific early writer for the movement with titles such as Méditations jocistes (three volumes), La vie quotidienne, etc. Many of his books were translated into English.

The theologian Paul Dabin wrote extensively on the lay apostolate and Catholic Action.

Meanwhile, Emile Mersch, a JOC chaplain in Belgium, developed a pioneering theology of the mystical body of Christ.

About Mersch, James Arraj writes:

"For 7 years he will preach Days of Recollection for members of the Young Christian Workers' Movement of Namur. He is keenly aware of the differences in temperament among his young friends and tells them, 'Each bird sings as his beak is made.' It is with these young people he feels most at ease."

Similarly, the French Jesuits played key roles in the development of the JOC in France.

It was Fr Adrien Danset from the Jesuis think tank and social action centre L'Action populaire who first alerted Fr Georges Guérin to the YCW in Belgium.

Paul Droulers in his book Le Père Desbuquois et l'Action Populaire documents the role of several Jesuits in the French JOC, including Fr Jean Guichard who became Guérin's assistant for 23 years, Fr Louis Berne, Alphonse Carrière, Jean Villain, Jacques Leurent, Gabriel Ranson and many others. Many other French Jesuits also played major roles with the other specialised Catholic Action movements.

At the theological level, another Jesuit YCW chaplain Yves de Montcheuil wrote a series of important books including L'Eglise et le monde actuel (The Church and the present world). Significantly, Fr de Montcheuil was also mentor to young Fr Pierre Haubtmann, the future editor of the Vatican II document, Gaudium et Spes, which dealt precisely with the theme of the Church in the world of today.

According to Droulers, Cardijn was particularly close to L'Action Populaire founder, Fr Gustave Desbuquois.

"J'ai bien connu le Père Desbuquois depuis Reims jusqu'à Vanves," Cardijn wrote to Droulers, ".. ce que j'ai admiré le plus en  lui, c'est son optimisme, l'espérance et la confiance, sa persévérance à bâtir L'Action Populaire, avec toute sa richesse doctrinale et apostolique et rayonnante".

"I knew Fr Desbuquois very well from Rheims until Vanves... and what I admired most about him was his optimism, his hope and confidence, as well as his perseverance in building L'Action Populaire with all its doctrinal, apostolic wealth and influence."

This cooperation with the Jesuits would soon reach the highest levels when the Belgian, Fr Jean-Baptiste Janssens, was elected in 1946 as Superior General for the whole society.

According to Patrick Keegan, Fr Janssens was a personal friend of Cardijn (Cited in an unpublished biography of Keegan by Fr John Fitzsimons.)

Fr Janssens also played a significant role in calling on the Jesuits to develop their social apostolate, publishing two documents De ministeriis nostriris in 1947. In this document he asked:

"Where, I ask you, are our houses and residences which might have as their primary aim the salvation of workers? Where are there communities of our men who, themselves leading the life of the poor, work in those 'ministries of a greater self-sacrifice among workers'?"

Two years later he issued his famous Instruction on the social apostolate in 1949, which also included some strong statements such as the need to completely uproot the spirit of "caste" among Jesuits and their students, and that they should not appear "to be allied with the rich and the capitalists".

As head of the Jesuits, Fr Janssens was also a Council Father at Vatican II.

At the international level, many Belgian Jesuits also played a significant role in the development of the YCW in India, including Fr Yves De Steenhault in the Asansol region.

It is also noteworthy that the Chilean Jesuit, St Alberto Hurtado Cruchado, founder of the Hogar de Christo (Houses of Christ) movement, was greatly influenced by a visit to the YCW in Belgium in 1947.

In a note published after his death he wrote:

"Since the times of Stephen and those who as living torches lighted the gardens of Nero, to those in our own day in Russia, Czechoslovakia, Yugoslavia, Japan, Spain and Mexico, all have given their lives for Him. Others have not been asked to give this supreme witness but in their daily lives they affirm it with courage: religious who leave the world to dedicate themselves to prayer others who unite their lives to those of the workers in factories, to a profoundly contemplative life; university academics and students animated by a serious spirit of prayer; laborers like those of the JOC who number more than a million throughout the world for whom prayer is like breathing itself, with them the wise who appreciate their vocation as Christians."
And in Australia, Fr Charles Mayne SJ played a major role in promoting the Cardijn movements and the lay apostolate, particularly among seminarians and young sisters.

Certainly, there were many more in other countries whose stories remain to be documented.