Discover more from Cardijn Research
My research notes about the life and work of Joseph Cardijn and his network
The JOC influence at Vatican II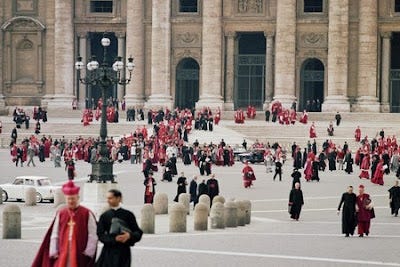 Bishops at Vatican II / Lothar Wolleh / Wikipedia / CCA BY SA 3.0
Among his many other engagements throughout his long life, François Houtart took part as a peritus or expert at Vatican II.

At first he was an adviser to the Latin American bishops. Later he became secretary of the Sub-Commission responsible for the drafting of the future Pastoral Constitution on the Church in the World of Today, Gaudium et Spes.

During this period, he was involved in many other meetings of bishops and experts, particularly on justice and development issues.

This gave him a bird's eye view of the unfolding of the Council and a perfect position to evaluate the influence of Cardijn and the JOC at the Council.

I asked him about this during my interview with him in 2014.

"The influence of the YCW at Vatican II was quite important," François told me. "First, because the Council was precisely a new vision of the Church and this vision was already living in the movement.

"And in Gaudium et Spes, the method of looking first at the reality before giving a Christian answer was of course in line with the methodology of the YCW, to see, to judge, to act.

"In this sense, the YCW was one of the important elements and a very important one to contribute to the transformation of the Church.

"And the second aspect was the number of bishops at the Second Vatican Council who had been associated in different ways with the YCW. Many of them were chaplains to the movement. Others were sympathetic to the movement.

"Especially in Latin America, it was very, very clear that the renewal of the Church in Latin American before Vatican II was very, very much associated with the YCW, because the priests in charge of the YCW were also the ones who were very active in renovation of the liturgy, in biblical studies, pastoral work, etc.

"And many of them became bishops later and were present at Vatican II. So in this sense there was a very important influence of the YCW at Vatican II," he said.

I did the interview with him mostly in French but I thought this was particularly important so I asked him to give his response in English and Spanish as well, which he kindly did.
Here are his answers.