Discover more from Cardijn Research
My research notes about the life and work of Joseph Cardijn and his network
The YCW and the Vietnam War I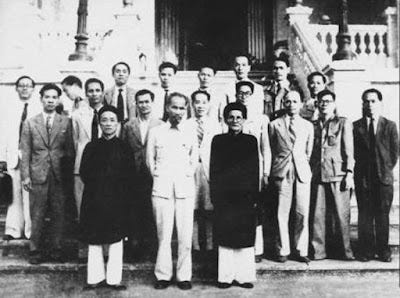 Ho Chi Minh's cabinet, September 1945, including Vietnamese YCW founder, Nguyen Manh Ha (unidentified)/ Vietnam Govt
For many of us (boomers) who grew up during the 1960s, the Vietnam War was perhaps the defining conflict of our youth. TV images of the 1968 Tet offensive remain engraved in our memories and hearts.

Fortunately, I was too young at that time to be called up for "national service" with the army which led many to serve in the paddies and fields of South Vietnam. Not so for many Australian YCW members who were just a few years older.

Arend de Weger from Brisbane was one who served in Vietnam before joining the YCW where he met his future wife.

And according to this article, one quarter of the members of the Ashburton YCW football team in Melbourne were apparently sent to Vietnam.

But there were also many sad stories such as this one told by Christine Gillespie about her brother John:

"We didn't get on, John and me. I found an old photo of him. Beautiful blue eyes. Long black lashes that I should have had. He was a real lair who left school early, went to pie nights at the YCW footy club, raged with mates, smashed up his hotted-up Holden now and then. A broken rib here, a gash there. He was a hard worker though, delivering frozen chooks, thumping dead poultry around the freezer truck all day.

"John glared out at me from the photo, a can of Foster's in his hand, leaning against the Holden. His wife, Carmel, must have taken the snap on his 23rd birthday, not long before he went away.

"'I'm going to Vietnam,' he told me. 'You never get anywhere if you don't take a few risks.'"

Sadly, John did not return.

The story that sticks most in my memory, however, was told by the late YCW chaplain, Hugh O'Sullivan, who was a young priest at Annunciation parish, Hectorville, South Australia, from 1965-69.

On one traumatic occasion, he had to celebrate the funeral mass for a young national servicemen from his parish, who was one of the early Australian soldiers killed in Vietnam. At the cemetery, Hugh was so angry at his death, as he told us on several occasions, that he almost stumbled into the open grave.

The event marked a major turning point in his own attitude to the war.

Cardijn's view

Meanwhile, in Belgium, Cardijn, who had visited Asia and Australia in 1966, had also spoken out  against war. As early as 1958, he gave his backing to Jean Van Lierde, a young Belgian YCW leader and conscientious objector to military service, calling for compulsory military service to be transformed into community service.

As Marguerite Fiévez and Jacques Meert recalled, he wrote:

"Let military service be replaced more and more by international civic or cultural service which would enable youth to get to know the history, the riches and the actual needs of other countries; to take part in the exploration of the past and present; to put themselves at the service of the education of their brothers of other lands; to enter into contact by lengthy stays among them; to learn the meaning of service and collaboration; to develop among all young people the sense of international solidarity."

And as the Cold War raged, he warned that "Nothing is more dangerous than the armaments race."

He asked:

"What are we to conclude?Either all these declarations are hypocritical or the resulting conclusions must be followed: stop spending on arms and instead put the resources to the urgent needs of humanity and particularly those of youth."

He insisted:

"All war must be considered an anachronism. Not only military war, but scholastic or religious war, war between states or within states. There will always be divergences, conflicts and opposition. But the question is how to resolve them. Must we continue to look for solutions through violence, material force and domination? Or should we not rather try to bring minds and hearts together, peoples as well as individuals, by the right kind of rivalry and competition, through devotion and generosity?"

Then, during the summer of 1966 he joined a peace rally organised by the 8 May Movement, which included a delegation from Czechoslovakia, and which attracted a mostly socialist and communist crowd of 8000.

Soon after, he added his name to the list of supporters of a demonstration for peace in Vietnam, drawing strong criticism, including from South Vietnam.

Several months later, Cardijn began to prepare what would be his final intercontinental trip to Asia in February 1967. The plan for this originally included visit to South Vietnam. However, the South Vietnamese government made it clear that he was not welcome, forcing him to cancel his trip.

Interviewed by journalists about these events, Cardijn refused to back down, maintaining his anti-war stance

"Where are the most murderous arms being made? How many workers are engaged in their production? What are the profits being made by the owners of the plants, the management and the share-holders? If all the workers of these factories throughout the whole world, refused together to work in armaments . .. better still, if only all the international workers and employers' organisations would take the initiative and oppose arms production?"

In a sense, this remains his testament on the peace issue since he died just months later on 24 July 1967.

The Vietnamese YCW

The views of the Vietnamese YCW are naturally also vital to this story.

Founded in the northern industrial city of Haiphong in the mid-1930s by a lay person, Nguyen Manh Ha, it was the first YCW movement in Asia.


Haiphong, Early 20th century
Read Manh Ha's story here.

In 1945, he became Minister for National Economy in Ho Chi Minh's short lived independent government. Later, when the country was temporarily divided along the 17th parallel by the 1954 Geneva Accords, he insisted on reunification in line with other provisions of the Accords. This placed him in conflict with Ngo Dinh Diem, the Catholic future president of South Vietnam, and the latter's supporters, many of whom were also Catholic.

However, many YCW and YCS leaders continued to align themselves with Manh Ha, setting the scene for later conflicts. Claire Trần Thị Lien explains much of this background in an excellent article "The Challenge for Peace Within South Vietnam's Catholic Community: History Of Peace Activism".

Later at the end of Vatican II, one former YCW leader and editor of the magazine, Song Dao (Live His Faith), Nguyen Dinh Dau, summarised their position as follows:

"Our principal ideas are those of the (Second Vatican) Council: We want to help the Catholics to leave the ghetto and the isolation in which they have lived, and to open them to collaboration with other political and religious forces, to lead them away from a purely negative anticommunism.

"Our topics are religious and social. We speak about the reforms wanted by the Council, we will shed light on the words of the Pope and deal with the social problems of our country, with trade union questions. We will speak about Peace and about the necessity to collaborate with the Buddhists and the other religions."

We can hear clear echoes of Cardijn's own views in this statement, particularly in the rejection of "negative anti-communism" and the need for interreligious collaboration that Cardijn had pleaded for at the recent International World Council in Bangkok at the end of 1965.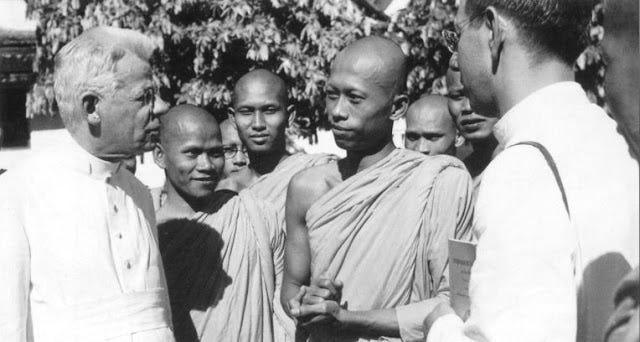 Cardijn meeting with Buddhist monks in Thailand at the end of 1965

By this time, however, following the assassination of Diem, the US was in the process of escalating the war. As the number of US (and Australian) troops - and deaths - rose, views polarised even further.

Nguyen Dinh Dau explained:

"The question of the independence of the country prevailed. Most were outraged by the fact that the Americans used religion to interfere in Vietnamese political life. The religious struggle was no longer satisfying, and the political fight became dominant, requiring collaboration with non-Christians."

By the end of the 1960s, leaders of the Vietnamese YCW based in Saigon had begun to criticise and oppose their own government's involvement in the war.

In turn, this led to conflict within the YCW itself. Backed by Bishop Phạm Ngọc Chi, who was responsible for Catholic Action and who had also opposed Cardijn's visit, the YCW chaplain general Nguyen Quang Lam broke ranks with those following the Song Dao line. He was succeeded by Father Trương Ba Can who became parish priest at Vuon Xoai parish, where the YCW had its base.

By 1969, following the formation of the Provisional Revolutionary Government (PRG), along with other priests, including YCS chaplain, Fr Huynh Cong Minh, Fr Can were calling for an end of repression, a cease-fire, the organization of free general elections, and the formation of a national unity government.

By the early 1970s, the YCW and YCS chaplains and leaders were organising public protests.

Claire Tran notes that the group also expressed its opposition to the American Cardinal Spellman, who had declared that US soldiers were defending Christianity and had said: "I believe that the Vietnam War is a war for the defense of Civilization…because any other solution except victory is inconceivable."

However, this view was certainly not shared by all American priests. In his autobiography, an American priest, Bob Willis, who visited Vietnam and the local YCW in 1971 quotes a Minneapolis priest, Harry Bury, to the effect that "a coalition of Catholics and Buddhists centered in the former Young Christian Workers movement" were "planning a series of demonstrations against the upcoming (1971) presidential elections."

And Claire Tran records that on September 14, 1971 almost 100 Catholic priests, intellectuals, and students burning their voter ID cards during a demonstration in front of  the Saigon archdiocesan centre.

Meanwhile, members of this group had also begun to speak out in favour of political prisoners resulting in several of their own members being fined and imprisoned, including Fr Can, who was sentenced to nine months prison and a large fine.

In November of that year, several more YCW chaplains were imprisoned without trial.

And in May 1972, police raided the YCW headquarters and arrested YCS and YCW leaders who were living there.

Some or many were imprisoned in the infamous "Tiger Cages" of Con Dao island.



Then, in July 1972, twelve Vietnamese priests published an open letter against repression, torture, and arrests. This led some of them to have direct contact with the National Liberation Front (NLF). (Tran)

Here it is interesting to note that during this period Fr Huynh Cong Minh and Prof. Ly Chanh Trung were responsible for the Young Christian Students movement. They worked together with a group known as Tin mừng (Good News). Significantly, Fr Minh had studied at the Catholic Institute in Paris while Prof. Ly had studied at Louvain in Belgium. So they were both very much in touch with what was happening with the movement in Europe and internationally.

In January 1975, as the war drew to a climactic end, Prof. Ly wrote a document The Basis for National Reconciliation in Vietnam deploring the failure to apply the 1973 Paris Peace Accords and the continuation by the US of its war policy and calling for reconciliation with the Communist North. Although ignored at the time, Claire Tran characterises it as a "decisive" intervention.

Growing awareness in Australia

With Australian soldiers fully implicated in Vietnam (until their withdrawal in 1972), the local YCW itself slowly began to address the questions arising from the war.

In a 1995 article, A New Youth for a New Australia, Val Noone recalls that during Cardijn's 1966 visit to Australia, he had not spoken out specifically on the Vietnam issue, preferring to place it in the context of "the importance for the Church of identifying with the independence aspirations of people in colonised countries."

Noone, who was a local YCW chaplain at Ringwood in the eastern suburbs of Melbourne during this time, recalls that YCW leaders began to discuss the issue of conscription.

As soldiers returned or were killed, awareness and concern over these issues continued to grow within the YCW as it did within the wider Australian community.

And following the arrests of YCW leaders in 1972, the Australian YCW along with the International YCW would launch a significant international solidarity campaign that we will look at in a future post.