Discover more from Cardijn Research
My research notes about the life and work of Joseph Cardijn and his network
Therese of Lisieux: Pius XI, Cardijn, the JOC - and the Sillon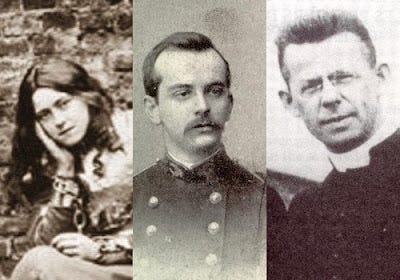 UNESCO is planning to include St Therese of Lisieux, the young French Carmelite nun and author of the spiritual classic, "The Story of Soul," in its list of 60 personalities to be honoured as part of its 2022-23 biennial program.
In November 2020, the Sanctuary of Lisieux in France's Calvados region proposed Therese for inclusion in the list while the French government proposed Gustave Eiffel. UNESCO accepted both names for the list, which will be submitted for ratification in November 2021.
If this comes off, it will coincide with the 150th anniversary of Therese's birth on 2 January 1873.
1929 Pilgrimage to Rome
All this reminded me once again of the longstanding tradition that Pope Pius XI had made Therese the patron saint of the JOC during the movement's first pilgrimage to Rome in 1929.
But what exactly did Pius XI say in 1929?
"Nous voulons bénir tout particulièrement vos magnifiques drapeaux, parce qu'ils symbolisent si bien votre organisation et afin qu'ils chantent toujours les deux belles paroles que Nous avons recommandées à votre cœur : l'union qui fait la force, l'obéissance qui procure la victoire.
"Nous sommes heureux d'ajouter à toutes ces bénédictions une petite médaille qui sera remise à chacun de vous. Cette médaille Nous l'avons choisie parce qu elle représente la petite sainte Thérèse de Lisieux qui est la protectrice de toutes les Missions. Je vous la donne parce que je considère les jocistes comme des missionnaires.
"Il y a les missions de l'extérieur et les missions de l'intérieur. Celles-ci sont aussi importantes et parfois plus difficiles que celles-là.
"Les jocistes sont les missionnaires de l'intérieur."
English translation
"We particularly want to bless your magnificent flags, because they symbolise your organisation so well and they sing together those two beautiful phrases that we have recommended to your hearts: union gives strength and obedience obtains victory.
"To these blessings we are happy to add a small medal that will be given to each one of you. We chose this medal because it represents the little saint, Therese of Lisieux, who is the protector of all the Missions. I am giving it to you because I regard all jocists as missionaries.
"There are missions of the exterior and missions of the interior. These latter are as important and sometimes more difficult than the former.
"Jocists are the missionaries of the interior."
Simply put, all that Pope Pius XI said was that since Therese was patron of all missionaries, she was therefore also patron of all jocists since they were also missionaries (of the interior). No mention at all of specifically making Therese the patron saint of the JOC!
And how did Cardijn characterise these events?
In an article he wrote for the JOC magazine in October 1929 on his return to Brussels, he confirmed this:
"Le Pape, en nous donnant la médaille-souvenir de sainte Thérèse de l'Enfant Jésus, a voulu nous dire qu'il l'avait choisie spécialement parce quelle est la patronne des missionnaires et qu'il nous considère comme des missionnaires, les missionnaires de l'intérieur, les missionnaires du travail, et il a voulu ajouter qu'il considérait notre mission de l' intérieur aussi importante que les missions de l'extérieur."
Translation
"The Pope, by giving us the souvenir medal of St Therese of the Child Jesus wanted to tell us that he had chosen it specially because she is the patron of the missionaries and that he regards us as missionaries, missionaries of the interior, missionaries of labour, and he wanted to add that he regarded our mission of the interior as equally important as the missions of the exterior."
In other words, Cardijn simply reported - in his usual enthusiastic style - that Pius XI had gifted medals of St Therese because she was patron of the missionaries. He made no mention at all of the pope making her patron saint of the JOC!
1930: Therese, special patron of the movement
Eleven months later in August 1930, announcing a new pilgrimage to Lisieux and Lourdes scheduled for 1931, Cardijn had changed his tune:
"La décision est donc prise. Dix mille jocistes iront à Lourdes l'année prochaine. Ils passeront à Lisieux pour se mette sous la protection de la petite Sœur Thérèse de l'Enfant Jésus, qui leur fut donnée par le Pape lui-même comme patronne spéciale de leur mouvement."
Translation
"The decision has been taken then. Ten thousand jocists will go to Lourdes next year. They will pass by Lisieux to place themselves under the protection of the little Sister Therese of the Child Jesus, who was given to them by the Pope himself as the special patron of their movement."
Somehow, between October 1929 and August 1930, Therese has been transformed into the "special patron" saint of the JOC, given by Pius XI himself!
On what basis does Cardijn make this claim? I have no idea!
1937: Therese, special protector of Catholic Action apostles
I have not found a record of what Cardijn may have said during the pilgrimage of 1931. However, he did visit Lisieux again in July 1937 for the Eucharistic Congress held there, where he delivered a significant speech:
"Puisse la petite Sainte de Lisieux, que le Pape Pie XI lui-même a donnée comme protectrice spéciale aux apôtres de l'Action Catholique dans les milieux du travail, puisse Sainte Thérèse de Lisieux obtenir que ce Congrès National, ce Congrès Eucharistique, facilite le renouveau eucharistique parmi tous les travailleurs de France et parmi tous les travailleurs du monde pour leur propre bonheur et pour la paix universelle; que le Congrès Eucharistique de Lisieux puisse envoyer à la classe ouvrière de France et du monde entier, un message qui soit l'écho de la parole pontificale et qui aide la classe ouvrière à sortir du nouveau paganisme et du nouvel esclavage dans lequel notre siècle menace de la replonger (Applaudissements)."
Translation
"May the little saint of Lisieux, whom Pope Pius XI himself has given as special protector to Catholic Action apostles in the labour milieux, may St Therese of Lisieux obtain that this National Congress, this Eucharistic Congress, facilitate a Eucharistic renewal among all workers in France and among all workers of the world for their own happiness and for universal peace; that the Lisieux Eucharistic Congress may send on the working class of France and the whole world a message that could be the echo of the pontifical word and which helps the working class to leave the new paganism and new slavery into which our century threatens to be plunged."
There's a lot to unpack in that paragraph, indeed in the whole speech. It's clear that Cardijn is greatly concerned about the growing clouds of war as well as the threats of communism and nazism, which is what he means by paganism.
In relation to St Therese, however, what is striking is how Cardijn now credits Pius XI with having expanded her role to become "special protector to Catholic Action apostles in the labour milieux" (or environments).
It would be interesting to discover the basis on which Cardijn makes this claim!
1952: Lisieux and Lourdes again for the 40th anniversary
Finally, in 1951, in preparation for another pilgrimage to Lisieux and Lourdes in 1952, Cardijn returns again to the role of Therese:
"1952, quarantième anniversaire du premier noyau jociste, qui en 1912 fut, à Laeken, le petit grain de sénevé du mouvement jociste, qui a atteint aujourd'hui plus de 50 pays du monde, verra tous les jocistes accourir aux pieds de la Très Sainte Vierge à Lourdes et aux pieds de Sainte Thérèse de Lisieux pour y déposer au nom de leurs millions de frères et de sœurs de travail, leurs demandes, leurs aspirations, leurs promesses, leurs engagements et leur consécration totale à la cause de l'apostolat auprès de la Jeunesse Travailleuse du monde et pour le triomphe de la Paix véritable."
Translation
"1952, 40th anniversary of the first jocist nucleus at Laeken in 1912, which was the little mustard grain of the jocist movement, and which has now reached more than 50 countries around the world, will see all jocists flock to the feet of the Most Holy Virgin of Lourdes and to the feet of St Therese of Lisieux and in the name of their millions of brothers and sisters at work to place their requests, their hopes, their promises, their commitments and their total consecration to the cause of the apostolate to the Young Workers of the world and for the triumph of universal peace."
Here it's interesting that Cardijn no longer makes any claim at St Therese's place in the movement. Had he abandoned his earlier claims? Certainly not!
1964: JOC leader Yvonne Tap becomes a Carmelite
I've found one further speech by Cardijn in which he speaks of St Therese. Significantly, it came in December 1964 when Cardijn travelled to India for the Eucharistic Congress in Bombay (Mumbai) where he met with Paul VI.
During that trip, he also assisted at the "reception of the habit" ceremony for Yvonne Tap, a French JOCF and JOC Internationale leader, who had decided to become a Carmelite in India, where she had originally gone as a movement extension worker.
Speaking in English, Cardijn again recalled the 1929 pilgrimage:
"In 1929, (35 years ago) the great Pope, Pius XI received the first Young Christian Workers at the Vatican. They numbered 1,500 … most were dressed in working clothes. He spent 3 hours with them, shaking hands with each one. At the end of the audience, when they were all assembled in the great hall of the Beatification, he said to them: 'You are the missionaries of Christ and of the Church in all the factories and workshops of the world and to protect your apostolate, I give you as patroness the patroness of all missionaries, the Little Carmelite, Saint Therese of Lisieux'."
Perhaps this is the clearest explanation of what happened. It was not in Pius XI's speech but at the end of the audience that the pope had explicitly given Therese to the movement as its "patroness."
At least, that's the only direct evidence of which I'm aware. In any event, Pius XI would surely have approved!
Therese, Marc Sangnier and the Sillon
It's evident from all of the above that, like so many of his generation, Cardijn was deeply impressed by the life of St Therese. Was there anything other reason for this devotion? Perhaps.
As I've written before, Cardijn was also greatly influenced by Marc Sangnier and the Sillon movement, which closed down following a letter from Pius X to the French bishops dated 25 August 1910 in which the pope condemned a number of the movement's methods and doctrines.
Yet, far from deterring Cardijn, when he launched those first grains of the jocist movement at Laeken in 1912, he worked closely with two people, who had already been formed in the methods of the Sillon, namely Victoire Cappe and Fernand Tonnet.
What's more, the JOC eventually adopted the 25 August as its foundation day - the day on which its first international congress opened in Brussels in 1935 - 25 years to the day after Pius X's tragic letter.
It was as if the JOC was joining itself to the heritage of the Sillon, which Cardijn had indeed claimed to be doing when Marc Sangnier visited Brussels in 1921.
But in 1910 the pope's letter had come as a huge blow not just to Cardijn but to Marc Sangnier and the Sillon leaders, who obeying Pius X's request, had resigned their positions in the movement.
Later, Marc Sangnier revealed that he had received what he regarded as a special grace through the intercession of St Therese that enabled him to come to terms with the end of the movement he had founded.
I don't know when Sangnier shared this story but I have often suspected that Cardijn was aware of it. In reality, it was the death of the Sillon that opened the way for the foundation of the JOC, which would also help explain why Cardijn felt completely justified in claiming Therese as patron saint of the JOC.
Stefan Gigacz
PS Just realised it will also be the 150th anniversary of the births of Therese and Marc Sangnier in 2023. Therese was born on 2 January 1873, just three months before Marc on 3 April 1873. Dates to remember!
PPS See my follow up blog post here.
REFERENCES
Therese of Lisieux (Wikipedia)
L'Unesco pourrait s'associer à l'anniversaire des 150 ans de naissance de Thérèse de Lisieux en 2023 (CathoBel)
Pius XI, Discours du Saint Père aux pèlerins jocistes (Joseph Cardijn Digital Library)
Joseph Cardijn, Aux pèlerins jocistes (Joseph Cardijn Digital Library)
Joseph Cardijn, Sermon à la Basilique de Lisieux (Joseph Cardijn Digital Library)
Joseph Cardijn, Sermon at the Lisieux Eucharistic Congress (Joseph Cardijn Digital Library)
Joseph Cardijn, Pèlerinage à Lourdes et à Lisieux (Joseph Cardijn Digital Library)
Joseph Cardijn, Reception of the holy habit - Yvonne Tap (Joseph Cardijn Digital Library)

Stefan Gigacz, The Sillon and the YCW (Sillon.net)
Stefan Gigacz, Marc Sangnier, Le Sillon and Therese of Lisieux (Cardijn Research)