Discover more from Cardijn Research
My research notes about the life and work of Joseph Cardijn and his network
Two Belgian spies: Cardijn and Gabrielle Petit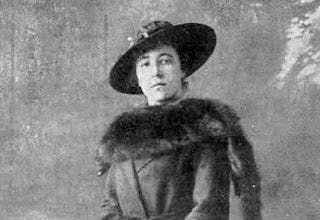 On 1 April 1916, a German military execution squad shot to death a 22 year old Belgian woman Gabrielle Petit, who had been convicted of spying for the Allies in her occupied homeland and who had refused to implicate her colleagues despite the offer of a reprieve.

Some time later (the date is unclear), young Fr Joseph Cardijn celebrated a Te Deum in her honour at the St Michel et Gudule Cathedral in the heart of Brussels.

According to Wikipedia English edition:


Gabrielle Petit was born to working class parents and was raised in a Catholic boarding school in Brugelette following her mother's early death. At the outbreak of the First World War, she was living and working in Brussels as a saleswoman. She immediately enrolled in the medical service of the Belgian Red Cross.[1]
Petit's espionage activities began in 1914, when she helped her wounded soldier fiancé, Maurice Gobert, cross the border into the Netherlands to be reunited with his regiment.[2] She passed along to British Intelligence information about the German army acquired during the trip. They soon hired her, gave her brief training, and sent her to spy on the Imperial German Army. She proceeded to collect information about enemy troop movements using a number of false identities.[2] She was also an active distributor of the clandestine newspaper La libre Belgique and assisted the underground mail service "Mot du Soldat". She helped several young men across the Dutch border.[1]
Petit was denounced and arrested by German military prosecutors in February 1916.
During her trial, Petit refused to reveal the identities of her fellow agents, despite offers of full amnesty. She was imprisoned at St. Gilles Prison in Brussels. Gabrielle Petit was executed by firing squad on April 1, 1916. Her body was buried at the execution field in Schaarbeek.[1]

Before her execution, refusing a blindfold, she told her captors: "Now you will see how a Belgian woman dies".

What's more two German soldiers refused to take part in the execution squad and were themselves shot on the spot.

How did Joseph Cardijn come to officiate at her Te Deum? It's not clear although by 1915 Cardinal Mercier had appointed him director of social work in the Brussels region so he was already on his way to becoming a public figure. But he did have any other closer links with Gabrielle Petit?

A few months later, Cardijn was again in the public (and German) eye:

According to Marguerite Fiévez et Jacques Meert:

On the 8th November the Cardinal (Mercier) presided at a solemn service for the military and civilian victims of the war in St. Gudule. Crowds packed the church even to the the doors. Abbé Cardijn was given the task of preaching. He denounced the unjust German aggression and described as prostitution the conduct of those who collaborated with the occupying forces; he called on the whole population to unite and to come to each other's aid with invincible trust in a just peace. 

On November 17th, 1916 in the name of 130,000 Christian trades-unionists of Brussels, he addressed to the occupying authorities, to the neutral powers and to the Pope a solemn letter of protest against the deportation of Belgian workers into Germany. This action was linked with that already taken by Cardinal Mercier and national leaders on the same issue. 

On December 6th a military patrol came to arrest the guilty party in the sacristy just after his Mass. The gesture landed him in prison. His mother was tormented with worry and grief and her mind gave way. This was the greatest suffering her son endured. 

It's almost as if the example of Gabrielle Petit inspired Cardijn.

Indeed, a year later he himself became involved in an anti-occupation spy ring known as the "Sacred Heart Militia", as he remembered 25 years later:

Feast of the Sacred Heart, June 12th 1942. It is twenty-five years today! The Sacred Heart Militia,4 in life and in all the surroundings of life, within institutions and among the masses. It must be a militia fired with love for its leader, his reign, his doctrine, his influence; a militia with the spirit of the spiritual, moral and social royalty of its master. 


He would be imprisoned a second time during World War I for these activities - a ten year sentence of hard labour - but the end of the war intervened to save him.

Still today we remember Gabrielle Petit the Belgian heroine who preceded and perhaps inspired him.

Read her letter of farewell (in French) here.

And more about her incredible story here. No wonder Cardijn was impressed.