Discover more from Cardijn Research
My research notes about the life and work of Joseph Cardijn and his network
Two pioneers: Etienne Isabelle and Victoire Cappe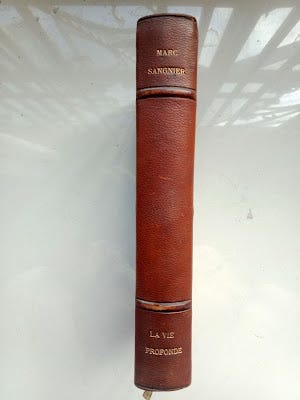 My last post cited Etienne Isabelle's 1897 article "A Nos Amis" (To Our Friends) in which he set out the plans and methods proposed by his group, La Crypte, as it began to develop beyond the confines of Stanislas College, Paris, where it had started.

It reminded me that in my library I'm pleased to have Etienne Isabelle's copy of a 1906 book by Marc Sangnier, La Vie Profonde, which I found in a Paris bookshop some years ago.
The book is in fact autographed by Sangnier himself with a personal dedication to Isabelle, which reads as follows.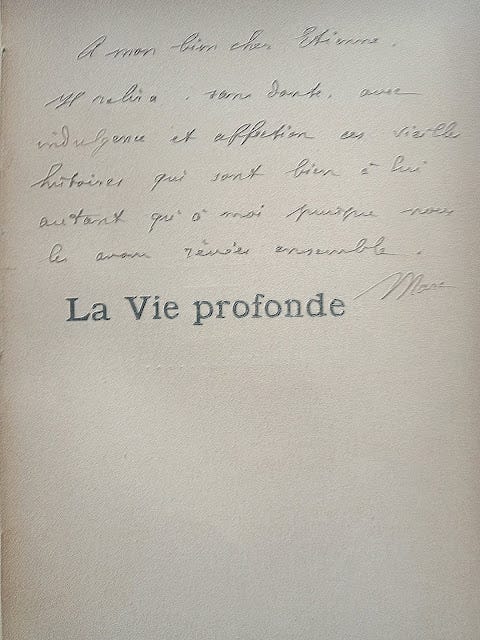 "A mon bien cher Etienne, Il relira, sans doute, avec indulgence at affection, ces vieilles histoires qui sont bien à lui autant qu'à moi puisque nous les avons rêvées ensemble."
English translation:
"To my very dear Etienne, Who will undoubtedly re-read these old stories with indulgence and affection as they belong to him as much as to me since we dreamed them together."
It is a meaningful acknowledgement of the key role played by Isabelle in the development of the Sillon movement, which has become almost synonymous (not unjustly) with Marc Sangnier himself.
A 1903 article by Henry du Roure in Le Sillon magazine responding to criticism of the movement further acknowledges Isabelle's early role.
"N'oublions pas que dès 1897 Sangnier et Isabelle ont pratiqué, soit comme soldats, soit comme officiers, cette « éducation morale, civique et sociale », dont M. Demongeot nous fait pour l'avenir une obligation pressante !"
"Let's not forget that from 1897, Sangnier and Isabelle, as soldiers or officers, put into practice that 'moral, civic and social education' that Mr Demongeot (the critic) insists that we make a pressing obligation for the future."
Today, however, we know little to nothing about the life of Etienne Isabelle. At least, I have not been able to locate anything by web searches.
Nor is Isabelle the only person whose key role in the development of the Sillon has been largely overlooked by history. As I have pointed out previously, the roles of Léon Ollé-Laprune, Henry du Roure, Louis Cousin and no doubt others have long been under-estimated.
To some extent this is not surprising since historical narratives can at best only ever capture a snapshot of the events that actually occurred. Simplifications are inevitable. These include an often overly narrow focus on the role of a particular founder figure to the exclusion of the contributions made by others.
This phenomenon also exists in relation to our understanding of the development of the JOC. Although there can be no doubting Cardijn's own primordial foundational role, the contributions of others have often been obscured.
Yet Cardijn himself insisted on the roles of the "founder trio" Fernand Tonnet, Paul Garcet and Jacques Meert in the creation of the male JOC. Then there were the fundamental contributions of the women pioneers of the female JOC (JOCF), including Victoire Cappe, Maria Baers and Madeleine Deroo.
Victoire Cappe
Indeed, a recent article in Boulettes Magazine published in Liège, Belgium, highlights the fate of Victoire Cappe, the women's labour pioneer, who first learned the Sillon's methods of work and organisation from Fr Jean Paisse, who had been chaplain to the Sillon group at Liège.
Cappe's pivotal role in the development of the Belgian Christian trade union and women's movements as well as of the JOC has also long been minimised or even overlooked.
Author Kathleen Wuyard writes:
"Victoire Cappe n'a pas de place, de rue ni même de statue à son nom à Liège et c'est bien dommage. Oubliée de l'Histoire, celle qui est morte à 41 ans seulement a dédié sa vie à l'émancipation des femmes en Wallonie."

Translation:
"There is no Victoire Cappe Place nor Street nor even a statue in her name in Liège (her home town) and it's truly a pity. Forgotten by History, Cappe who died aged only 41 dedicated her life to the emancipation of women in Wallonia."
Wuyard continues:
"Au lendemain de la Première guerre mondiale, on la nomme conseillère du ministre de l'Industrie, du Travail et du Ravitaillement, mais du côté des pouvoirs dirigeants du mouvement social-chrétien, on commence à voir d'un mauvais oeil ce petit bout de femme qui n'en finit pas de prendre de la place. 
En 1919, on l'exclut du comité directeur de la CSC, tandis qu'au sein de la Fédération nationale des Ligues ouvrières féminines chrétiennes, ses responsabilités lui sont enlevées par la secrétaire-générale. Trahie de tous les côtés, Victoire en vient à douter de ses engagements, et à abandonner son combat féministe en faveur d'une foi qui prend toujours plus de place. Un repli sur elle-même aux conséquences lourdes pour son mental: aux prises avec une dépression profonde, Victoire s'éteint en 1927 à 41 ans seulement."
Translation:
"At the beginning of the First World War, she was appointed as an adviser to the Ministry of Industry, Labour and Supplies, however, the leaders of the Social Christian Movement began to take a negative view of this tiny little woman who never ceased to play a role.
In 1919, she was excluded from the executive committee of the CSC (Christian Trade Unions) while her responsibilities with the National Federation of Women's Christian Worker Leagues were taken from her by the secretary-general."
Betrayed on every side, Victoire began to doubt her involvements and to abandon her feminist battles in favour of a faith that took an ever greater place. Her turning inward had massive consequences on her mental health. Caught up in a deep depression, Victoire died in 1927 aged only 41."

Not only was it Cappe's fate to be marginalised by the movements she had helped found but she lived in an era that seems to have lacked awareness and understanding of mental health issues. All the more reason to remember her achievements today.
Fortunately, just as Marc Sangnier honoured the pioneering role of Etienne Isabelle, Joseph Cardijn did make a point of paying homage to Cappe's contribution:
"Ceux qui ont vécu les années héroïques des débuts du mouvement social féminin chrétien reconnaîtront sans hésitation que ce mouvement n'aurait pas existé sans cette pionnière de l'apostolat auprès des ouvrières."
Translation:
"Those who experienced the heroic years of the beginnings of the Christian women's social movement will unhesitatingly recognise that this movement would not have existed without this pioneer of the apostolate among workers."
Hopefully, a new generation of historical studies will shed more light on the work of Victoire Cappe, Etienne Isabelle and the many others who in some cases literally gave their lives to the movements they helped found.
READ MORE:
Easter Centenary for Cardijn and the YCW
Facts, principles, solutions; Victoire Cappe and the See, Judge, Act
Love, friendship and social action
Kiara Gigacz, Victoire Cappe, Joseph Cardijn and the See, Judge, Act