Discover more from Cardijn Research
My research notes about the life and work of Joseph Cardijn and his network
Young Léon Ollé-Laprune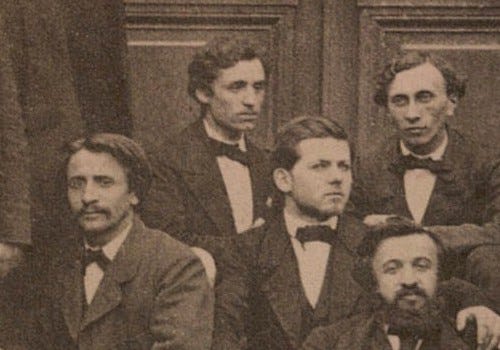 Today, I'd just like to share a "new" or in fact very old photo of French philosopher, Léon Ollé-Laprune (above top left), that I have "found" on the web.
I've often mentioned the vital role he played both as a key influence on Marc Sangnier's Le Sillon movement and on Cardijn himself.
His Aristotelian virtue ethics philosophy was in fact the foundation of the see-judge-act.
Indeed, Ollé-Laprune all but coined the expression see-judge-act himself as he often counselled young people to "see clearly, judge well and decide." For these reasons, I have sometimes also called him the philosophical father of the see-judge-act.
Until now, however, I've only been aware of one photo of him, taken late in his life (he died at the age of 58, sadly).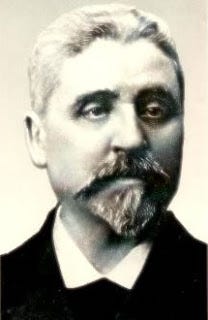 Now, thanks to www.archive.org and the library of the Ecole Normale Supérieure, I've found this one taken with his classmates at the Ecole Normale in Paris in 1858: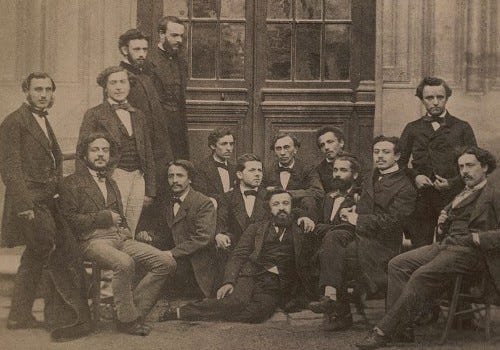 Click here to view the full original photo: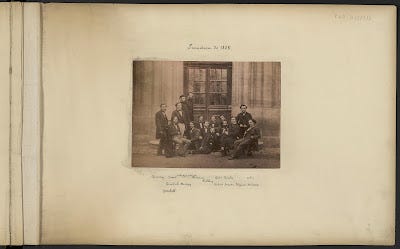 It is interesting to note that to the right of Léon Ollé-Laprune is Henri Huvelin, who later became a priest and a noted spiritual director.
Indeed, Huvelin is credited with having converted Charles de Foucauld, whose forthcoming canonisation has just been announced by Pope Francis.
Huvelin was also close to the Austrian Catholic lay leader, Friedrich von Hügel, and apparently also an influence on the psychologist, Carl Jung.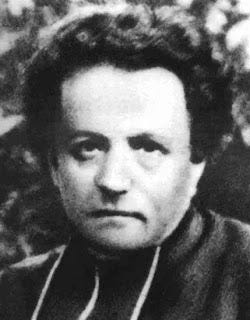 And just above is a photo of Huvelin as a priest, which also appears to be the only other known photo of him - except for our "new" one with Léon Ollé-Laprune and the ENS Class of 1858.
Stefan Gigacz
READ MORE

Léon Ollé-Laprune

See Judge and Conclude with Léon Ollé-Laprune (Cardijn Research)

Seek, Judge and Act - the Sertillanges side of the story (Cardijn Research)
Henri Huvelin (Wikipedia.fr)
Charles de Foucauld (Wikipedia)
Blessed Charles de Foucauld, The Conversion (The Catholic Counter-Reformation)
Carl Jung (Wikipedia)
Friedrich von Hügel (Robyn Wigley-Carr, The spiritual formation of Evelyn Underhill)
Gustave Ducoudray (Wikipedia.fr)
Jules Charles Chantepie du Dézert (Les inspecteurs généraux de l'Instruction publique. Dictionnaire biographique 1802-1914)
Desiré Nolen (Wikipedia.fr)
Emmanuel Langlois des Essarts (Wikipedia.fr)